There are many different transportation options for UConn students, faculty and staff. A UPass is needed to access CT Transit and WRTD and other participating bus/train routes for free. Apply online at www.upass.uconn.edu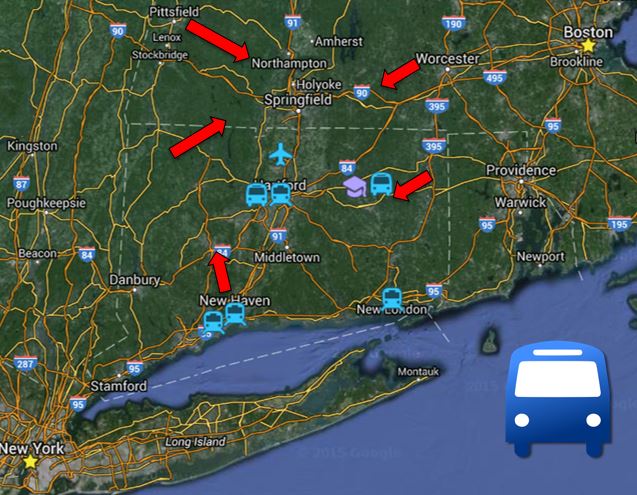 UConn operates a network of shuttle buses, airport and train station shuttles as well as providing resources for local transportation as well.
CT Transit Bus 913 (search for '913') from Storrs > Manchester > Downtown Hartford – Free for students with UPASS!  This hourly bus service runs from 6:00 a.m. until 12:00 a.m. stopping in Manchester at Buckland Hills Mall and Union Station Bus and Train Station in Hartford.
Peter Pan Bus – Daily buses to Hartford, New York and Boston.
UConn Transportation Services – Click on On-Demand for information about the UConn Airport Shuttle or the Shuttle to Union Station Hartford Train/Bus Station.
UConn Transportation Services –Click on Bus Routes for the different free, on-campus Shuttle Services including Purple Line which stop at apartments on Hunting Lodge Rd and Silver Line which stop at Northwood Apts and Storrs Downtown.
Windham Region Transit District (WRTD) – The Storrs-Willimantic route runs between UConn and the East Brook Willimantic, CT.  Free for students with UPASS!
ZipCar at UConn – Zipcar "car sharing" service allows you to share a car with the UConn community where you pay by the hour.
Zimride at UConn – Zimride is an online ride-matching service limited to only UConn students, faculty and staff.
Enterprise Rent-A-Car – Enterprise office in Willimantic offers on campus pick up/drop off.