Fall 2019 Off-Campus Housing Fair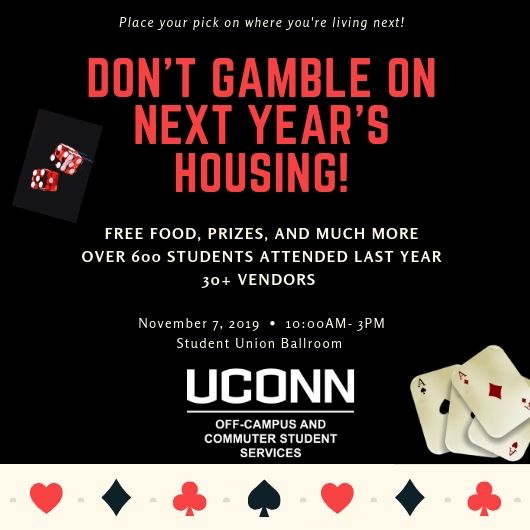 The University of Connecticut's Fall 2019 Off-Campus Housing Fair will take place on Thursday, November 7th  from 10am-3pm in the Ballroom on the third floor of the Student Union. The theme for this year's fair is: "Don't Gamble on Next Year's Housing".

Over 600 students attended the event last semester, looking for immediate or future housing and/or housing resources. The event will include food, prizes, and great information.
You are encouraged to bring displays, brochures, flyers and giveaways to pass out to attendees. This is a wonderful opportunity to share information about your department/business with students who are planning to or currently living off-campus.
You are welcome to arrive as early as 8:30 am, but please be at the fair no later than 9:30 am in order to set up your materials and table.  If necessary, you can park BRIEFLY to unload your vehicle in the Student Union loading dock, however, no vehicles will be permitted to remain there during the event. All vehicles should be parked in either the North or South Garage. Lunch tickets and table number(s) will be provided at check-in. In order to best serve our students, we request that all information tables remain setup and staffed during the posted event hours of 10am-3pm.  Lunch will be provided for those who have lunch tickets from 11am-1pm in the Student Union, Room 318.
YOU MUST BE REGISTERED AND APPROVED TO ATTEND THE EVENT. ALL VENDORS CAN REGISTER BELOW AND PROPERTIES WILL RECEIVE AND EMAIL FROM OFF-CAMPUS PARTNERS. PLEASE CONTACT Ashley.O'Connell@uconn.edu WITH ANY QUESTIONS!
Registration is now Closed.