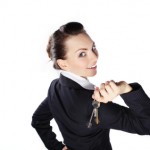 Make an Appointment and Arrive on Time
Landlords usually do not appreciate perspective tenants arriving unannounced, and you want to be assured that you will be able to see the property when you get there. Also, verify the information with the landlord over the phone first.
Be Presentable
Landlords want to rent to individuals who look as if they would make good tenants. Proper attire may improve your chances when there are several applicants. Treat your viewing like a job interview.
Be Persistent
A prospective landlord may take your name and say he/she will get back to you after reviewing all applications. Check back and remind the landlord that you are still interested.
Timing


Start looking early

, and give yourself at least a few weeks to find housing. The time in which students start looking for housing changes every year, depending on the market and the availability of housing for the next year. If you want a house for the following school year, it is advisable to start looking for available houses in the fall-winter of the year before. Landlords who usually rent to students may be willing to have you sign a lease in advance.
(the following points are as advised by Tufts University)