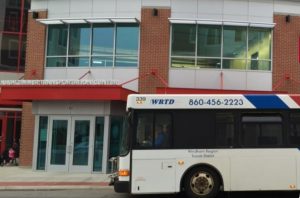 Previously, UConn Facilities and Transportation made an announcement that there would be a $60 fee associated to UConn bus passes for the WRTD bus line. We are pleased to relay the message from Parking Services that there has been a policy change. WRTD UConn bus passes are now available at NO CHARGE to all UConn employees and students at the Parking Services office.
Please read the following information in regards to the policy change published by UConn Parking Services:
"Windham Regional Transit District (WRTD) Bus Passes are now available at no charge to all UConn employees and students at the Parking Services office (Storrs).  UConn One-Cards (University identification cards) must be presented at time of purchase.  WRTD UConn Bus Passes provide access for set 6-month periods (July-December; January-June) irrespective of the dates upon which they are issued. The passes authorize unlimited ridership on both the Willimantic City Route and the Storrs-Willimantic Route.  
Those without UConn Identification Cards may purchase WRTD Bus Passes directly from the WRTD ($30/month).
Low income Mansfield residents may also be eligible to receive WRTD Bus Passes at no-charge.  Information about the Town of Mansfield program can be obtained from the town's Human Services office (860-429-3315)."
For more information, please call 860-486-4930 or email parkingservices@uconn.edu.